"Strolling Thunder" Rally Calls for Action on Early Childhood Issues In NJ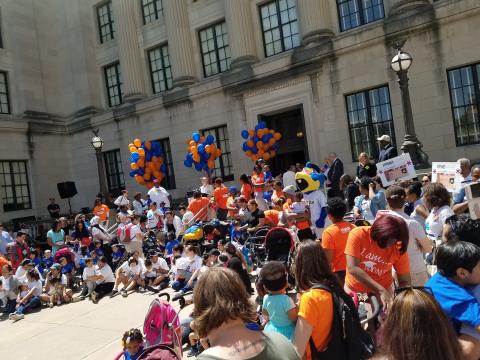 On Monday, May 21, over 150 young children and parents joined together at the state capitol in Trenton to call on lawmakers to improve policies for infants and toddlers and their families. Several State Assembly Members and Senators also joined with parents and advocates at the event to repeat the call that success for children begins at birth, and greater public investments are needed on early childhood issues.
New Jersey's "Strolling Thunder" event is part of the national Think Babies campaign organized by the DC-based organization Zero to Three. The Think Babies campaign seeks to make the potential of every baby our national priority and highlights issues like child care, paid family leave, and health services for expectant mothers.
A report funded by The Nicholson Foundation and released earlier this year by Advocates for Children of New Jersey showed that the state has severe deficits in the amount of available childcare for infants.  New Jersey has about 200,000 infants with working parents in need of childcare, yet there are only enough spots in licensed child care centers for 56,000.
The solutions called for at "Strolling Thunder" rally — such as increasing the amount of paid parental leave and increasing the reimbursement rate to centers that offer infants care — will help to close this gap and ensure that every child in New Jersey receives the best start in life.
Press Coverage: